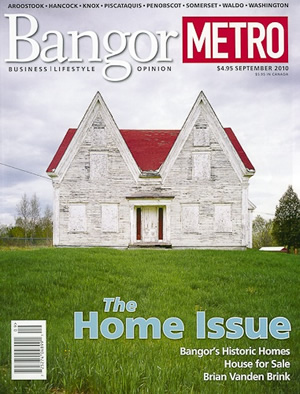 I N T E R V I E W F R O M B A N G O R M E T R O
Perspectives
Photographs by Brian Vanden Brink
Reprinted by permission from the September 2010 issue of Bangor Metro magazine. Copyright 2010. All rights reserved.
Brian Vanden Brink is a Goliath among American architecture photographers. You might not recognize his name, but hundreds of his photographs have been published on the pages and as the covers of dozens of magazines such as Architectural Digest, New York Times Magazine, Metropolitan Home, Coastal Living, and Down East. Born in Omaha, Nebraska in 1951, Vanden Brink moved to the Camden/Rockport area in 1978 and started specializing in architectural photography.
Vanden Brink's photos are vibrant, telling, and in-the-moment. He doesn't stage his shots or use any Photoshop tricks—he doesn't even have a light meter. He is obsessive and compulsive about the details, which you have to be when your primary light source is the sun. The demand for his photos is inscessent and intense and comes from a global fanbase. And with results like these, we can understand why. While his primary focus is on residential buidlings, the photos featured here represent abandoned buildings across the country. They can be found in his book, RUIN: Photographs of a Vanishing America, published in 2009.