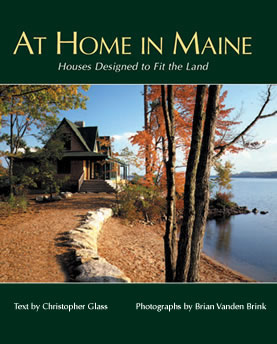 According to renowned architectural photographer Brian Vanden Brink, "good architecture, sensitive to site, will inspire others to produce, build, and design more of the same." Toward that end, he and architect Christopher Glass have created a new book, At Home in Maine: Houses Designed to Fit the Land.
Following an introduction explaining the book's design principles, three sections provide examples of these principles: homes that have been renovated with respect for the land, while valuing the original builder's intent; non-residential buildings that have been turned into homes; and new homes designed to fit their sites. The houses chosen for the book are relatively small, and serve as inspiration for designers, builders, and homeowners everywhere who want to suit their homes to their natural and cultural settings.
Christopher Glass has practiced what he preaches for more than forty years. A graduate of Haverford College with a master of architecture degree from Yale, he is vice president of the organization Maine Preservation and a former chairperson of the Maine Historic Preservation Commission. Vanden Brink's architectural photographs appear in more than one hundred books and in dozens of publications, including Architectural Record, Architectural Digest, the New York Times Magazine, Metropolitan Home, Décor, and Fine Homebuilding.
From traditional capes nestled into hillside meadows, to cedar-shingled oceanfront cottages, the photos in At Home in Maine will stimulate anyone who aspires to fine home design in harmony with the natural beauty of the Pine Tree State.
AT HOME IN MAINE. Down East Books, hardcover, 160 pages, 200 color photos, 8-1/2" x 11". $40.00. Publication date: May, 2005. ISBN: 0-89272-639-3
At Home in Maine is available wherever books are sold or directly from Down East Books: www.downeastbooks.com or 800-685-7962.

REVIEWS

"There are moments when good and clear buildings find their way into good and clear landscapes. Among them are the felicitous matches presented beautifully by Brian Vanden Brink and acknowledged with affection by Christopher Glass. This is a book to savor."
—Philip M. Isaacson, architecture critic for the Maine Sunday Telegram and author of A Short Walk Around the Pyramids and Through the World of Art
---
"There is no place quite like Maine—no other place so richly filled with humble homes of graceful and compelling eloquence. And as you will soon discover within these pages, there is no better collaboration of photographer and writer to tell their stories."
—Jim Tolpin, author of The New Cottage Home and contributing editor of Cottage Living magazine
---
"Brian Vanden Brink is the foremost architectural photographer in Maine and is among a handful of the best in the country. Christopher Glass is one of the generation of architects who elevated the practice of architectural design in Maine beginning in the 1970s. The combination of Brian's eye and Chris's ideas makes At Home in Maine a worthwhile and rewarding read whether you are in a position to afford an architect-designed home or not."
—Edgar Allen Beem, art critic, freelance writer, and author of Maine: The Spirit of America
---
Read an Excerpt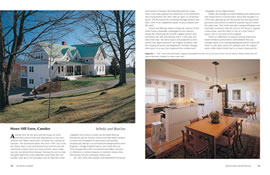 ---
"Brian Vanden Brink's artistic photographs expertly illustrate the wonderful, site-specific residences presented in At Home in Maine."
—Keith Moskow, AIA; principal,
Moskow Architects, Boston, MA, and author of
The Houses of Martha's Vineyard
---
"One of Maine's finest architectural photographers, Brian Vanden Brink has joined forces with one of the state's most experienced architects and historic preservationists, Christopher Glass, to create a rich visual and written celebration of the wonderful sense of place that characterizes so much of our domestic architecture."
—Earle G. Shettleworth Jr., director, Maine Historic Preservation Commission and State Historian
---
"Modest, pure, honest, beautiful in essence; all adjectives describing the vernacular homes depicted in this book, as well as the photography herein as a body of artwork."
—Mark A. Hutker, AIA; principal, Hutker Architects, Martha's Vineyard, MA