This Old House
By Edgar Allen Beem
When he's not shooting interiors, Brian Vanden Brink is breathing new life into old homes.
Reprinted by permission from the March 1999 issue of Photo District News Copyright 1990 by Photo District News. All rights reserved.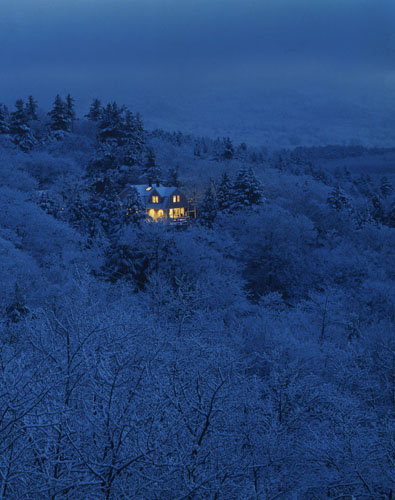 Brian Vanden Brink is a very busy man. The serene, well-ordered interior of his studio-a former beauty parlor next door to his bungalow on a quiet side street in the coastal town of Camden, Maine- belies the pace he has been keeping recently.
Sorting through two teetering stacks of Polaroids, Vanden Brink takes a moment to recount some of his recent assignments. In the past couple of months, he has photographed two log homes in Nova Scotia for Log Homes Illustrated; an historic church in Maine for Down East magazine; a summer cottage for The New York Times; a pair of Maine island homes and two new public libraries for local architects; and five Cold War-era installations at Brunswick Naval Air Station for the federal Historic Architecture & Buildings Survey.
Flipping through his stock log, the photographer reveals that during this time he has also supplied images to magazines Country Living (50 transparencies of wooden churches and 40 of winter scenes); House & Home (31 images of barns and 47 of fireplaces); Creative Home (88 pictures of faux finishes and trompe l'oeil paintings); and book publishers Taunton Press (an unspecified number of bathroom shots) and Workman Publishing (52 photographs of porches).
"In Fact," says Vanden Brink, "I don't really want to be that busy ever again."
At 47, Vanden Brink is at the top of his game. Largely self-taught, he has evolved in the past 20 years from small-town obscurity into one of the northeast's top architectural photographers. While his bread and butter is shooting interiors for architects and magazines, his passion is quite different: abandoned houses.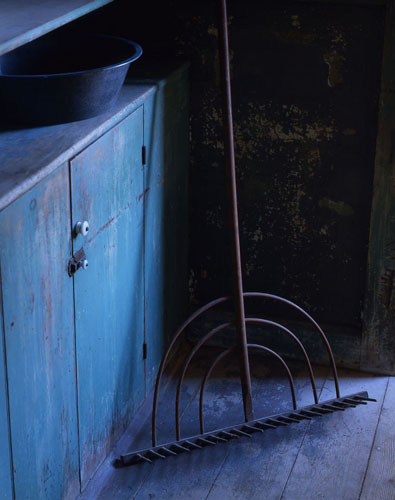 He says he'll travel to wherever there are empty, boarded-up and falling-down buildings; indeed, his photo archive includes some 100 old homes and buildings scattered from Maine and Nova Scotia to Louisiana and Colorado.
"Brian's work is consistently good," says Jeff Nemeroff, art director at Architectural Digest, for whom Vanden Brink has completed several assignments. "He has a sense of how to shoot each individual project. Some photographers shoot the same way every place. Brian can just tell what each shoot needs and produces strong, balanced photographs every time."
"Many architectural photographs are over-lit and over-propped," adds author Jim Tolpin, several of whose books for Taunton Press, including the highly successful The New Cottage Home, include Vanden Brink's photographs. " Brian doesn't do any of those things. He really captures the spirit of a place. He gets just enough into a picture to set the mood."
What draws him to abandoned houses, Vanden Brink says, is their emotion. "There's a sense of melancholy and isolation in all these places," he observes. "In general, I'm much more attracted to the weathered gray patina of a broken-down home than I am to a shiny new coat of paint."
That is evident in photos of some of his favorite abandoned houses, many of which he has discovered during his travels not too far from home. These include a double-gabled, boarded-up farmhouse in North Jay, Maine, and a crumbling, weathered farmhouse set off by a field of wild purple lupines, in coastal Winterport.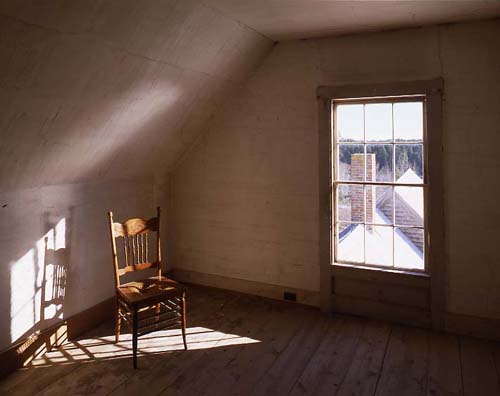 "I feel very fortunate to have captured that one," he notes. "Not long after I shot it, it was torn down."
When photographing old houses, Vanden Brink makes judicious use of artificial lighting, always preferring natural light. He works with a Sinar F-1 View camera and arsenal of lenses ranging from 75mm to 360mm. "I try to maximize natural light and not ruin it with a lot of fill flash," he says. " I don't use strobes. In fact, I don't even own any strobes. For interiors, I just use primitive tungsten lights, aluminum scoops-usually just to fill dark shadows-and a full array of bulbs from 15-watt appliance bulbs to 500-watt photo floods."
He also does not use a light meter. He shoots black-and-white Polaroids of every home or building to aid in composing the image and analyzing the light. The hardest part, he says, is being patient enough to "find that special moment" when the light is perfect. "I'm trying to capture the spirit and the natural beauty of the house," he says. Case in point: his photo essay on the Olson House in Cushing, Maine (the farmhouse made famous in Andrew Wyeth's painting "Christina's World"), which he originally shot in 1995 on assignment for Down East magazine, and then resold to Coastal Living last fall.
Rather than mimic Wyeth's images of bleak country life (most of which were painted in the summer), Vanden Brink shot the weathered three-story farmhouse in November, with a dusting of snow on the field below.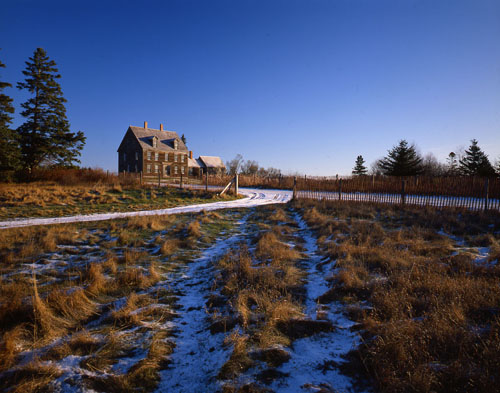 His interior shots capture the spartan beauty of the artistic landmark: the wide, scuffed floorboards, worn blue doors, bare yellow walls and the pattern of brilliant sunlight pouring in through banks of high, wide windows into empty rooms.
"The way Brian shot it gave a sense of life to those empty rooms," says Down East editor Dale Kuhnert. "The Olson House was a classic, but I can send him to a million-dollar mansion and he can find the essence of that as well. There is always a depth to his photographs and a wonderful sense of order."
No doubt the sense of order he brings to his photographs can be traced to his midwestern upbringing. Vanden Brink was raised in a suburb of Omaha, Nebraska, and studied geography and geology at the University of Nebraska. He later studied theology with some thought of becoming a minister-which might have happened, had not a recreational interest in photography pointed his life in another direction. While working as a student at a television station, Vanden Brink was given an old Crown Graphic to use and discovered the miniature majesty of 4 x 5 view camera imagery. "I knew right then that this was the tool for me," he recalls. "I'd been using 35mm cameras prior to that, but the view camera set the course for me."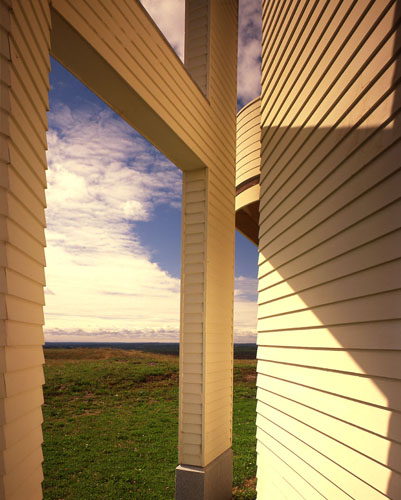 In 1978, Vanden Brink and his wife Kathleen took a trip to Rockport, Maine, so he could attend a three-month residency program at the Maine Photographic Workshops (the only formal training he has ever received). Originally intent on becoming a fine-art photographer, he realized as soon as daughter Maegan came along that fine art was not going to pay the bills. Studying his portfolio, he concluded that many of his best images were of buildings. Maine's newly sophisticated architectural community-the product of a design diaspora in the Seventies which sent young, post-modernist architects from major universities out into the countryside in search of vernacular traditions-proved an untapped local market. Vanden Brink would soon become the photographer of choice for documenting the work of these architects, and he continues to furnish images for their promotional brochures, in-house publications and design competition.
"Brian is still an art photographer," insists Stephen Blatt, former president of the Maine Chapter of the American Institute of Architects, and one of the state's premier architects. "He finds beauty in buildings that architects don't even see. He is a consummate discoverer of light and , as a result, he flatters our buildings."
Blatt values the fact that Vanden Brink encourages the architect to be present during the shoot. "All the shoots that I've been on with him took a full 12 hours," he says. "Usually he comes the day before to figure out the lighting and then works all the next day to get both the early morning and the late afternoon light. I learn more about my own buildings by working with Brian. He really is the public's eye."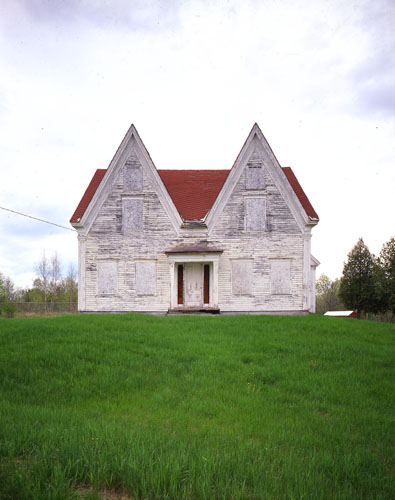 The fact that magazine and book editors constantly look to Vanden Brink, Blatt adds, makes him an architect's best publicist: "He's gotten us into Architectural Digest, and we get two or three calls a week from people who've seen our work in The New Cottage Home."
In the meantime, Vanden Brink's images of abandoned buildings appear on the postcards he sends out quarterly to some 650 architects, editors, publishers and writers. Eschewing the aid of a rep or stock agency (more than a third of his business comes from the sale and re-sale of his stock images), Vanden Brink says this is the only advertising he does. "I use a lot of the things I shoot for myself on the postcards," he says. "People seem to love getting them. I think they show that photographing architecture is something I love and that I'll bring that love to the jobs I shoot."
With his acknowledged eye for architecture Vanden Brink could have pursued fame and fortune on the international market, but he has resolutely maintained ties to his home, family and community. Rather than jetting from New York to L.A., he prefers tooling around New England in his 1951 army surplus Jeep and playing softball in the local coed league. "One of the things I've learned from 20 years of doing this is that you can find opportunities right under your nose," he says. "Find opportunities in your own neighborhood and go for it."